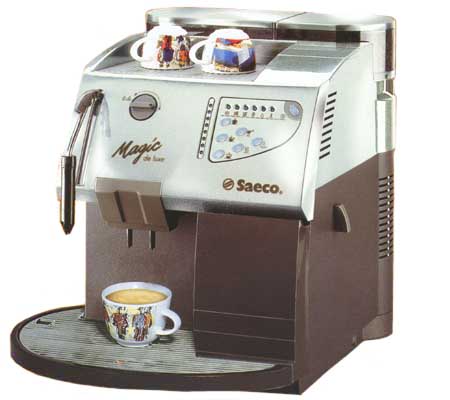 Saeco/Estro Magic Deluxe
---
Our Price: $850.00
Weight: 29 lbs.
Width: 13 in.
Height: 15.5 in.
Depth: 16 in.
Power: 120 V / 1250 W

Also available HERE in Black
Free: Shipping in the Continental US and a bag of gourmet espresso beans
The Magic is a self-grinding, fully automatic espresso brewer of contemporary design. At a touch of the button, Magic will grind, dose, tamp, brew, and dispense. The used puck is automatically ejected, and Magic is immediately ready for the next cycle.

Select servings from 3 adjustable single cup settings and two doubles. The rugged burr grinder can be set for different grinds and the dosage can be easily varied between 5 and 9 grams. A second doser can be used to bypass the grinder to use pre-ground decaf. Use the steam arm for warming and frothing milk. Hold up to 8 cups on the electrically warmed stacking surface on top cover. Robust die cast aluminum housing. Front panel LED indicators advise when beans and water need to be refilled or when dump box is full. Dump box slides out to empty. Brew group with stainless steel filter can easily be removed for rinse cleaning and replaced without tools.

Experience prefect authentic espresso at the touch of a button in the home, office, cafe, restaurant, or on a cart . . . like Magic.

Front Panel Indicators: 3 single cup settings, 2 doubles, water refill, bean refill, water temperature, empty used grounds box, brew group sensor, and decalcification.